Russia: Amber covers beach after storm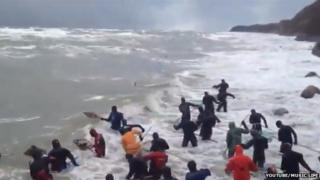 A severe storm in the Baltic Sea left a Russian beach covered with pieces of amber, it's been reported.
Locals rushed to gather the amber from the shoreline in the town of Pionersky, in the Kaliningrad region, despite freezing cold conditions, the Klops.ru website reports. Some donned wetsuits and waded into the sea with nets while others scoured the beach, picking through blackened seaweed, the website says. "Town residents and tourists were picking up small and medium-sized pieces of amber from seaweed and sand from dawn till dusk," local resident Olga Bazhenova tells the Interfax news agency. "Even pensioners forgot their ailments and age and scratched the frozen soil with sticks like babies in a sandpit." The timing couldn't have been better, as the "free gift from nature" will help people out during the country's current economic crisis, the Klops website says. It also coincided with Orthodox Christmas Eve.
More than 90% of the world's amber comes from the Russian exclave, sandwiched between Poland and Lithuania, Interfax says. It's a major source of income for the region; the local Kaliningrad Amber Factory extracted 250 tonnes (550,000 pounds) of it in 2014.
Use #NewsfromElsewhere to stay up-to-date with our reports via Twitter.