Japan: Kobe earthquake babies mark adulthood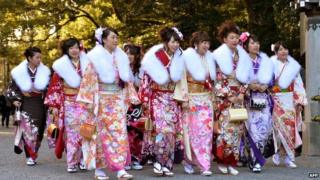 Survivors of the devastating 1995 Kobe earthquake, who were only babies at the time, have celebrated becoming adults together.
Japanese tradition sees young people celebrate reaching the age of 20, when they are officially old enough to drink and vote, with a special coming-of-age ceremony. For those born before or in the aftermath of the disaster, this year's events marked a particularly poignant milestone, the Japan Times website reports. Nearly 10,000 new adults observed a moment of silence at the ceremony in Kobe, while watching film footage of the destroyed city. Also known as the Great Hanshin earthquake, the disaster killed more than 6,400 people and left hundreds of thousands homeless. "Though we don't have any memories of that time, we grew up alongside the reconstruction," says Hikari Iwamoto, who gave a speech at the event. The city's mayor, Kizo Hisamoto, congratulated the young people on becoming adults, telling them to "live vigorously, believing in your own strength and the strength of others".
Coming-of-Age Day is a national holiday in Japan, celebrated each year in January. It's a famously colourful occasion, as young women often dress up in elaborate kimonos and decorate their hair with flowers. For many new adults it's a chance to go out drinking or to parties, but in the Kobe area this year the events struck a more serious note. In the nearby city of Nishinomiya, where more than 1,110 people died in the earthquake, college student Takuya Hatsuda promised to "take a first step toward the future, contemplating the significance of the life we were allowed to keep".
Use #NewsfromElsewhere to stay up-to-date with our reports via Twitter.