Vietnam: 'Spy pigeons' turn out to be racing birds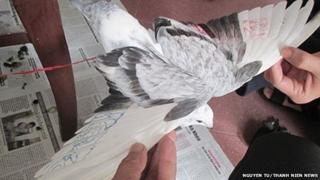 When pigeons with mysterious markings kept landing in a Vietnamese city, residents suspected something sinister was afoot.
The pigeons had unknown characters stamped on their wings in red and blue ink, and rings around their feet, prompting some in Da Nang and on the internet to suggest the birds were on a spying mission from China, the Thanh Nien News website reports. But far from being winged agents of espionage, police say the pigeons were in fact just regular racing pigeons in need of a rest. Since November 2014, about 16 pigeons have been trapped by locals and handed over to police after landing on houses in the coastal city. Officers say they've traced the birds to racing clubs in nearby countries, and that their wing markings and leg rings are identifiers. Relations between Vietnam and China are strained over territorial disputes in the South China Sea. Tensions rose in 2014 after China moved an oil rig into waters claimed by Vietnam, leading to violent protests.
While these birds were cleared of any clandestine activity, pigeons have been successfully used for intelligence gathering, including by the British during World War Two. Other animals have also aroused suspicions in the past; in 2007, Iran detained 14 squirrels found near a nuclear enrichment plant.
Use #NewsfromElsewhere to stay up-to-date with our reports via Twitter.