Czech Republic: Mining plan prompts secession debate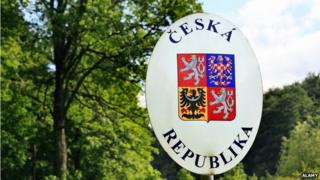 A Czech mayor has suggested his town should secede from the country if plans to expand mining in the area go ahead, it's reported.
The small town of Hora Svate Kateriny sits on the border with Germany, and Mayor Lukas Pakosta says joining their northern neighbour would be "an option", the Mlada fronta Dnes website reports. Residents fear the town could be cut off under a planned expansion of the opencast mine, and the mayor says a critical road link would be destroyed under the proposals. "We would only be able to get into Bohemia through mountain areas," he says. "In winter, we would be totally cut off, but this wouldn't be a problem in the case of Germany." People in the area often do their shopping across the border and the nearest hospital is in the German town of Olbernhau, the report says. "If the Czech Republic lets us down, from a practical point of view being ceded to Germany is an option," Mr Pakosta tells the website.
Not everyone supports the mayor's idea, though. "This is rubbish," a local miner tells the paper. "We want to stay in the Czech Republic and keep mining coal because this brings money." The suggestion has been labelled "dangerous" by former Czech Foreign Minister Karel Schwarzenberg. "As Donetsk and Luhansk cannot leave Ukraine, Hora Svate Kateriny cannot leave the Czech Republic," he says.
Use #NewsfromElsewhere to stay up-to-date with our reports via Twitter.