American Samoa: Food shortages after US port dispute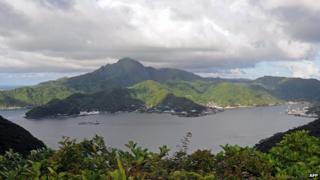 Congestion at ports in the United States has caused food shortages thousands of miles away in the Pacific island territory of American Samoa, it's reported.
A dispute between port workers and their employers is behind the slowdown at ports along the west coast of the US, which has led to chaos in the shipping industry. For residents in American Samoa, about 4,800 miles (7,700km) away, it means supplies of essential foodstuffs are running low, as there hasn't been a delivery for four weeks, Radio New Zealand International reports. Most shops don't have eggs or milk, and prices have been hiked on the food that is available, the radio says, adding that one store is charging more than $2 (£1.32) for a single tomato.
Production at a new tuna cannery expected to employ 2,000 people, has also been delayed by the problems in the US, because essential parts needed to operate the factory haven't arrived. The factory is now due to start production in mid-February. American Samoa relies on imports for almost all of its food, and the next shipment is due to arrive in the territory on 2 February.
Use #NewsfromElsewhere to stay up-to-date with our reports via Twitter.