China lures Russian tourists with theme park in north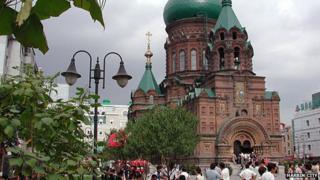 The northern Chinese city of Harbin is to get a large theme park based on Russian culture, it seems.
Wei Minfang, head of a local tourism company, says he intends to begin work on the Sino-Russia Friendship Park later this year in the Manchurian city. Covering five square kilometres (about two square miles), the project will focus on the history of the city "with particular reference to Russian culture", Mr Wei told Xinhua news agency. The aim is to boost tourism ties between the two countries. Work will start this year and should take another six to complete, although the first stage ought to be open to the public by 2017.
Harbin has strong historical ties with Russia. It was the hub of the Chinese Eastern Railway, which was built at the end of the 19th century with Russian funding, and the city was soon dubbed the 'Moscow of the East' because of its architecture and the tens of thousands of Russians who flocked there. Their numbers were swollen by refugees after the Bolshevik Revolution, but civil war, Japanese occupation and the rise of the Chinese Communists had all but put an end to the Russian presence by the early 1950s.
Mr Wei's company already runs the venue for Harbin's Snow And Ice Festival, which sees ice sculptors from around the world converge on the city to compete in carving the most elaborate creations in freezing winter temperatures. The ice site already has a Russian theme, with a full-scale model of an Orthodox church and a Medieval fortress . The new park, which is estimated to cost five billion yuan ($800m; £530m), will be built around the current ice venue.
Use #NewsfromElsewhere to stay up-to-date with our reports via Twitter.