Icelandic pagan movement builds first temple in capital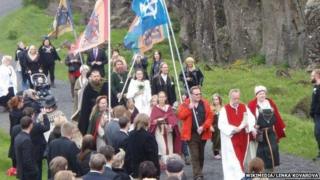 Iceland's main neo-pagan religion is to build its first temple in the capital, Reykjavik, it's reported.
The Asatru movement, which seeks inspiration in Iceland's pre-Christian Norse beliefs, says this will be the first pagan temple to be built in the country for 1,000 years. Work is due to begin in March at a site in the Oskjuhlid district, a popular woodland area that already hosts the landmark Perlan building, Morgunbladid newspaper reports.
The 350-sq-m (3,800-sq-ft) building will take the form of a half-buried dome, aligned with the path of the Sun. Architect Magnus Jensson has incorporated the mathematical 'golden ratio' in his design, as well as the numbers nine and 432,000 - which are sacred to the Asatru rite and other pagan religions.
Reykjavik City Council has donated the site, but the Asatru Association will raise the $975,000 (£645,000) building costs itself. The Association has 24,000 members, out of an overall population of about 326,000. Asatru High Chieftain Hilmar Orn Hilmarsson, a noted composer, says the temple will be used to celebrate weddings, naming ceremonies and funerals, and should accommodate 250 people at a time.
Use #NewsfromElsewhere to stay up-to-date with our reports via Twitter.