China: Gold to become additive in popular spirit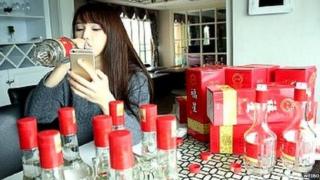 Chinese health authorities plan to approve the use of gold foil in one of the country's most popular alcoholic drinks, it's reported.
The National Health and Family Planning Commission has asked for public feedback on the proposal to allow gold to be added to baijiu, a white liquor, the Global Times reports. The commission says a maximum of 0.02g of gold per 1000g of liquid can be added, but it hasn't said what prompted the move, and that's been raising some eyebrows. Its use in spirits is currently banned and nutritionists say gold has no significant health benefits, the South China Morning Post notes. Baijiu is a strong spirit of up to 60% proof, but bingeing on the drink has recently become a popular social media trend.
One baijiu expert tells the Global Times that while he sees no problem with adding gold, the move may cause controversy as it comes amid China's sweeping anti-graft campaign. State media outlets have also questioned the reasoning behind the move, with one paper noting that manufacturers will be able to raise baijiu prices when the gold foil is added.
Some Chinese social media users have ridiculed the plan. "Normal human beings do not need gold in their diet, but it is essential for the boorish rich!" says one Weibo user, referring to the country's nouveau riche, notorious for their extravagant spending. "This plan is nothing but a gift to corrupt officials!" another person writes. Others think the commission should refocus, with one user writing: "Adding gold to food! The health department should go back to selling sweet potatoes."
Use #NewsfromElsewhere to stay up-to-date with our reports via Twitter.