Denmark: Bicycle playgrounds rolled out nationwide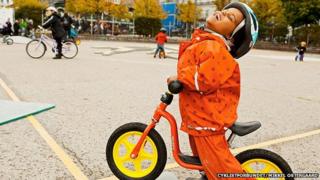 Permanent bicycle playgrounds are going to be set up in cities across Denmark, it's been announced.
Ten cities will get dedicated spaces for children to safely practice their cycling skills, after a trial scheme proved popular. In 2011, the Danish Cyclists' Federation set up a mobile bike playground in the capital, Copenhagen, which was fully enclosed and kitted out with ramps and different surfaces. The idea was to encourage children to "play themselves into secure cyclists", the group said at the time. "Experience has shown that bike playgrounds are a great way to get children to move and be safe in traffic," Klaus Bondam, head of the federation, tells the Copenhagen Post. "We are looking forward to spreading this concept so that children throughout Denmark can benefit."
Denmark is already celebrated as one of the most cycle-friendly nations in the world: nine out of 10 Danes own a bicycle, and 45% of children cycle to school. But recent figures show that car ownership is on the rise, and that a record number of vehicles took to the roads in 2014.
Use #NewsfromElsewhere to stay up-to-date with our reports via Twitter.