New Zealand: Residents stunned by 'phallic sculpture'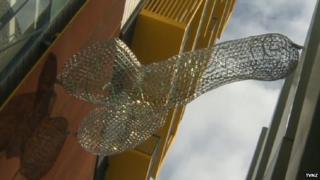 A sculpture being installed at a New Zealand railway station is causing amusement among locals who say it looks like a giant penis.
The aluminium artwork called Transit Cloud is suspended outside the station in New Lynn, a suburb in the northern city of Auckland, and is meant to represent clouds and raindrops, according to sculptor Gregor Kregar. But residents say the piece, which cost the city NZ$200,000 ($150,000; £100,000), looks more phallic in nature, the New Zealand Herald reports. "What the hell is that? It's certainly not a cloud. It looks like a penis," one woman tells the paper. "I was surprised that it was erected," another local says on the 3 News channel. "Maybe the angle could be slightly shifted to change the visual concept".
Mr Kregar says he's found the reaction only "a little bit upsetting" and has been able to see the funny side. "Art is there to provoke the reaction," he tells TVNZ. "Usually for the one negative comment there's thousands of positive comments as well." The council commissioned the artwork as part of efforts to revitalise New Lynn, and some locals have reacted positively, describing it as "terrific". Mr Kregar says the finished sculpture will feature LED lighting and will look different by night. "Hopefully the opinion will change through time when the sculpture is installed and they'll embrace the work."
Use #NewsfromElsewhere to stay up-to-date with our reports via Twitter.