China: Thousands of air raid shelter residents evicted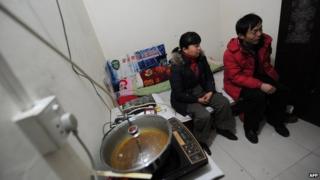 Beijing's government has evicted more than 120,000 people living in the city's disused air-raid shelters, it's reported.
Authorities will begin redeveloping the spaces this year, after spending three years clearing people out of makeshift underground housing, the Beijing News website reports. The subterranean dwellers occupied 13% of all underground space in Beijing, according to a Civil Defence Bureau official, and more than 7,000 individual residences were recorded during the evictions. Built during the Cold War, the shelters form part of a network of caverns beneath the Chinese capital. A lack of affordable housing means thousands of migrant workers from the countryside have made their homes underneath the streets, and locals have dubbed them shuzu - or the "rat tribe". The government says the evictions were carried out for security reasons. In the past, underground spaces have been converted into car parks or entertainment venues.
The scale of the clearance surprises some Chinese social media users, and many express concern for the welfare and fate of the evictees. "People were really living there? How cruel," says one user on the People's Daily Weibo page, while another person asks: "Where are these people going to go?" The dilemmas faced by migrants also concern some users: "On the one hand I welcome these migrant workers providing services to the city," says one person. "On the other, these people are deprived of their human rights."
Use #NewsfromElsewhere to stay up-to-date with our reports via Twitter.