Serbia: Soviet-era tank sale to raise military funds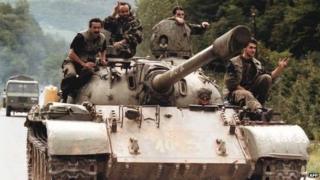 Serbia is selling off hundreds of Soviet-era tanks and other hardware in order to raise money for its armed forces.
The sale includes 282 T-55 tanks, more than 16,000 pistols and 5,000 rocket launchers, the Blic tabloid reports. Thousands of bullets and rifle grenades are also up for grabs. The country's Ministry of Defence says the arms are "not essential for the normal functioning of the defence forces". "We are talking about surplus weapons that have already been outdated or have passed their use-by date," the ministry says on its website. "The sale will not affect the country's defence capabilities."
Money raised from the sale will go towards buying new weapons and will fund research and development. Officials say the public sale is a more transparent process than has used in the past, and is aimed at preventing "unlawful acts". But the bidding process isn't open to just anyone who fancies having a Soviet-era tank in their garden. The ministry specifies that only companies which are licensed in foreign arms sales are allowed to take part.
Use #NewsfromElsewhere to stay up-to-date with our reports via Twitter.