Japan: JFK gift-giver traced after 53 years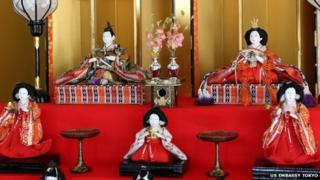 A Japanese woman who sent a set of traditional dolls to US President John F Kennedy more than 50 years ago has been traced after an appeal, it's reported.
Caroline Kennedy - the current US ambassador to Japan and President Kennedy's daughter - asked the media for help to find out who sent the "hina" dolls so that she could say thank you, Kyodo news agency reports. Mrs Kennedy played with the dolls as a child and now has the set on display at her official residence in Tokyo in preparation for the country's Doll Festival on 3 March.
Japanese media have identified the sender as Tsuyako Matsumoto, now 92 years old and living in a retirement home in the city of Kitami, about 1300km (800 miles) north-east of Tokyo. She wrote to the president in 1962 and was surprised to receive a thank you letter from his secretary in return, the agency reports. That prompted her to buy a set of 15 dolls and post them off to the White House. "I thought it would be a surprise because it was pricey and rare," says Ms Matsumoto, adding that she's "simply happy" that the ambassador wants to thank her for the gift. Asked what she would say to Mrs Kennedy if they were to meet, Ms Matsumoto replies: "That's a secret."
Use #NewsfromElsewhere to stay up-to-date with our reports via Twitter.