Japan: New world record set for building snowmen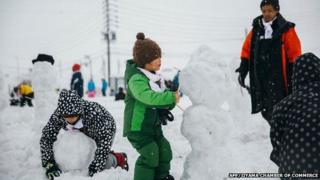 A new world record has been set in Japan for the most snowmen built in one hour.
More than 600 people helped to smash the old record by making 1,585 snowmen in the city of Iiyama, north-west of Tokyo, the Kyodo news agency reports. To count towards the record attempt, snowmen had to be more than 3ft (91cm) tall and have facial features and ornamental arms, the agency says. No tools were used, aside from the traditional glove-covered hands. "It was tough because the snow crumbled, but I had fun," says eight-year-old Ichika Oguchi, who took part along with her family.
Guinness World Records confirmed that Iiyama had beaten the previous record of 1,279 snowmen, set by more than 350 participants in the United States in 2011. Earlier this month, hundreds of people in the Canadian city of Ottawa bettered that number by building 1,299 snowmen in 60 minutes, but it wasn't officially confirmed, and the title now belongs to Iiyama. The city is situated in the mountainous north of Nagano Prefecture, and experiences heavy snowfall each year. The new world record was set during its annual snow festival, which also features elaborate giant snow sculptures.
Use #NewsfromElsewhere to stay up-to-date with our reports via Twitter.