Italy: President opens palace to daily visitors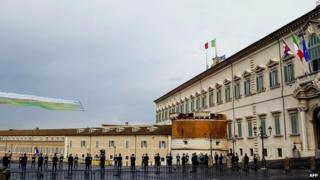 Italy's new president is throwing open the doors of his official residence, Rome's historic Quirinale Palace.
Sergio Mattarella, who took office earlier this month, says the huge 16th-century palace will soon be open every day for public visits, and that new areas will be opened up to house temporary and permanent exhibitions. Until now the Quirinale has only been open for a few hours on Sunday mornings. Anyone wanting to explore outside of these times had to make do with a virtual tour on the palace website. The vast 1,200-room building has been home to 30 popes, four kings, and since the 1940s has been the official residence of Italy's presidents. Announcing the decision, Mr Mattarella described the palace as a "symbol of the culture and history of the Italians", and said a working group is already looking into the details.
While some Italian social media users are thrilled with the news, many have one eye on the country's stretched public finances. "This idea is great, but who pays for the staff?" asks one person on the La Repubblica website. "And with this gesture most of Italy's problems are resolved!" a Twitter user adds with a dose of sarcasm. Others are already starting to see a pattern in the new president's decisions. The Quirinale announcement comes only days after Mr Mattarella hopped on board an Alitalia flight to visit his home city of Palermo - the first time in years that a head of state has shunned the presidential plane. One Twitter user thinks the palace opening shows the president is mixing things up more than the country's youthful premier, Matteo Renzi, declaring: "Between this and the aeroplane, the real revolutionary is Mattarella."
Use #NewsfromElsewhere to stay up-to-date with our reports via Twitter.