Egypt: Books on revolution street art seized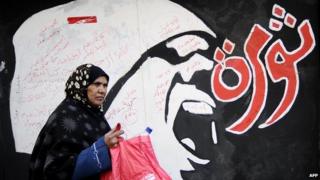 Customs officials in Egypt have seized hundreds of copies of a book on revolutionary graffiti, it's reported.
The book, called Walls of Freedom, features images of street art which have appeared in Egypt since January 2011, when then-President Hosni Mubarak was ousted following huge street protests. Its website says it also looks at the graffiti artists and "examines the historical, socio-political and cultural backgrounds which have shaped the movement". But a Finance Ministry official says the book is "instigating revolt", and that customs officers have seized 400 copies which had arrived from Germany, the al-Masry al-Youm website reports. Undersecretary Ahmed al-Sayyad tells the website the book gives "advice on confronting the police and armed forces", and says the copies will be sent to prosecuting authorities.
One activist says that confiscating books is "absurd", but that Egypt's laws give officials some leeway. "The law on publication contains a lot of loose terms that give authorities the chance to interpret them as they please," Emad Mubarak, director of the Association for Freedom of Thought and Expression, tells the Egypt Independent. Rights groups have strongly criticised limitations on freedom of expression in Egypt under the current government of President Abdel Fattah al-Sisi, particularly against journalists and people found guilty of blasphemy or promoting atheism. In January, a student was sentenced to three years in prison for comments made on Facebook, a decision Human Rights Watch described as "part of a wider government push to combat atheism and other forms of dissent".
Use #NewsfromElsewhere to stay up-to-date with our reports via Twitter.