Saudi female TV presenters urged to dress more modestly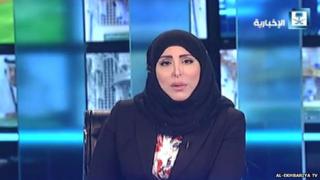 Female newsreaders in Saudi Arabia may soon be required to dress more modestly when they appear on air, it's reported.
The kingdom's advisory body, the Shura Council, is considering a proposal put forward by the country's media authorities which would require all female television presenters to adopt a more conservative dress code, which includes covering their head and wearing the traditional black abaya cloak. One of the authors of the draft law, Ibrahim Abu Abat, says it's "embarrassing" that the country's media do not represent Islam in what he deems to be the Saudi way. "Saudi women must appear with respectable hijab, so we can have Saudi media that truly represent our beliefs and values", the Saudi Gazette reports.
The proposal, which has yet to be passed by the council, has inevitably divided opinion among some female members. Nora al-Adwan, who backs the move, caused controversy last year when she accused some female presenters of damaging the country's reputation by refusing to wear the traditional dress and for wearing too much makeup, the Gulf News website reported. Latifa al-Shualan, on the other hand, expresses surprise at the council's interest, saying the country has more serious issues to worry about. "There are many other pressing issues such as the danger posed by the media activities of the so-called Islamic State terrorism group", she told the Arab News website. "Our media should highlight the Kingdom's important role as a moderate political force in the region", she adds.
It's not the first time that Saudi women in the public eye have had their dress sense held up to media scrutiny. Last year, a female newsreader based in the London studio of state-owned al-Ekhbariya TV caused a stir when she went on air without a headscarf.
Use #NewsfromElsewhere to stay up-to-date with our reports via Twitter.