Russian pro-Kremlin chocolates taunt West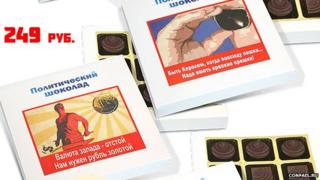 Russian confectioners Confael are launching a new range of chocolates ahead of the popular Women's Day celebrations, with a distinctly political flavour.
The selection boxes are adorned with famous Soviet-era propaganda posters, amended by satirical couplets mocking Western sanctions against Russia over its armed intervention in Ukraine. "For Western currency we have no need/A golden rouble - at full speed!", reads one. Another, showing a World War II female factory worker warning against gossip, says "Don't mouth off, gentlefolk dear/That Obama's bound to hear!" Bumaga news portal notes that the prices have been slashed "to match the crisis".
One box features a photograph of President Putin in sunglasses, with the verse "To be king, when all are 'ifs' and 'buts'/You need a pair of rock-hard nuts". And if that's not coarse enough for the lady in your life, Confael offers a Stalinist manager telling his comrade exactly how he disposed of an article by US State Department spokeswoman and regular Kremlin hate-figure, Jen Psaki: "I just read Psaki's latest gripe/It came in handy for a wipe".
The reaction on social media suggests the gifts left a bitter taste in most mouths. "Shameful toilet humour" and "low politicking" are some of the more polite comments on Confael's Facebook page. Others mock the Soviet-nostalgia of the designs, suggesting chocolate-flavoured moonshine and pickled herring might better suit the company's new clientele, to be enjoyed in a "chocolate Gulag with toffee barbed wire".
Use #NewsfromElsewhere to stay up-to-date with our reports via Twitter.