Dubai: 'Cigarette sandcastle' built in anti-litter drive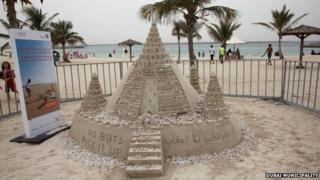 Officials in Dubai have built a giant sandcastle and covered it in cigarette butts to raise awareness about littering, it's reported.
The 3m-high sandcastle is designed to draw attention to the environmental damage cigarettes can do when washed out to sea, and the risks they pose to children, officials say. The scale of the problem was evident during a clean-up at one beach in 2014, when volunteers collected 50,000 cigarette butts in one hour, the Emirates 247 website reports. Authorities hope the cigarette sandcastle will hit home with beach-goers. "The volunteers working on this installation collected thousands of cigarette butts from beaches and other public spaces," says Ismail Abdulrahman Al Banna, marketing director at Dubai Municipality. "Our goal is to give people food for thought on how pollution on this scale can affect the future of our children, as well as the environment in the UAE."
Volunteers carry out regular beach clean-ups in Dubai, but littering continues despite the risk of fines. In 2014, the municipality announced litter bugs would be slapped with a penalty of 500 dirham ($136; £88), which would be doubled, then tripled, if the same person was caught more than once. Keeping the emirate clean and tidy is a priority for authorities - it also has fines for chewing gum on public transport and hanging washing on private balconies.
Use #NewsfromElsewhere to stay up-to-date with our reports via Twitter.