Turkey: Presidential palace guarded by 1,000 police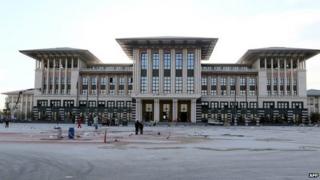 Turkey's new presidential palace is guarded by more than 1,000 police officers - the equivalent of one for every room, it's reported.
The huge building - known as Ak Saray, or the White Palace - is said to have 1,150 rooms, and the same number of police have been assigned to work there, the Today's Zaman website reports. The officers are from two new police branch offices which have been set up to cater to President Recep Tayyip Erdogan's security needs at his official Ankara residence. The website points out that at the old presidential palace only 450 police were deployed.
One former regional police chief tells the paper that using so many officers was unnecessary and "even paranoid". "If these police officers were not stationed there, the protection of the streets and the security of life and property in Ankara and other cities would be better guarded," says Ercan Tastekin. Public spending on the presidential residence has been the topic of much debate in Turkey, and with a price tag of $615m (£397m) it has raised eyebrows for its lavish design. But Mr Erdogan has defended the building, pointing out that there are many other pricey palaces in the world. "This palace does not belong to me, it belongs to the nation," he said in December.
Use #NewsfromElsewhere to stay up-to-date with our reports via Twitter.