Israel: Rabbis back 'pre-nups' to let women remarry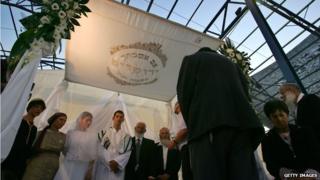 A group of Israeli rabbis has come up with a modern solution to the long-standing problem of Orthodox Jewish men who won't grant their wives a divorce, it's reported.
The Tzohar Association, which tries to accommodate Orthodox tradition and contemporary life, has proposed a pre-nuptial agreement that would automatically trigger divorce in the event of separation, the Arutz Sheva website reports. Under religious law a woman cannot initiate the split, but rather has to ask her husband to divorce her. If he refuses, the wife remains "chained" to him and unable to remarry. The issue affects secular Jewish women too, as civil marriage is unavailable in Israel. Tzohar agreed its proposal with Israel's Bar Association to ensure it meets all legal standards, says its chairman, Rabbi David Stav.
"No one deserves to stay chained in a terrible marriage with a knife at their throat," Rabbi Stav tells the Times of Israel, adding that he wants pre-nups to become the norm for Israel's Jews, so they can divorce "with respect and dignity". The Artuz Sheva website notes that the rabbinical establishment and conservative "Haredi" wing of Judaism have been wary of Tzohar's ideas in the past. But a spokesman from the association says Jerusalem's chief rabbi has given his vocal backing to the idea, and "lots of Haredi figures support our initiative silently". One woman who was refused a divorce for six years tells the Times of Israel that women get stuck without a way out. They "can't move on, can't get married, can't have children", she says. "I'm so glad that someone finally is standing up and working to do something about it."
Use #NewsfromElsewhere to stay up-to-date with our reports via Twitter.