Russia: Free bread offered to pensioners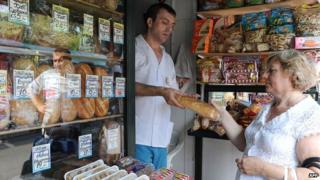 Pensioners in a Russian city will be offered free bread every week in response to economic turmoil in the country, it's reported.
A bakery in the central Siberian city of Tomsk says it will give away 60 loaves at two local markets every Saturday and on public holidays, the Lenta.ru news website reports. The initiative is due to begin on 7 March, and a city government statement hailing the plan said it would help "vulnerable people in difficult economic conditions", but it was subsequently taken down. "We support such initiatives," Mayor Ivan Klyayn was quoted as saying. "All entrepreneurs must understand that the current increase in food prices now often makes it impossible for people with low income and pensioners to buy basic foodstuffs."
The cost of many basic food items has soared in Russia during the past year - in part caused by Russian counter-sanctions banning food imports from Western countries and a sharp fall in the rouble's value. Fruit and vegetable prices rose by 40% in the year to January, and consumers have seen a significant rise in the cost of eggs, pasta and cereals.
There was some support for the idea on Russian social media, with one person tweeting that it was "good thing to do". Others were sceptical, however. "When will this country stop humiliating its people? Never," says a popular satirical Twitter commentator. Another user dryly remarked: "I wanted to spend my sunset years in Costa Rica but Tomsk has clearly become a cooler option."
Use #NewsfromElsewhere to stay up-to-date with our reports via Twitter.