Belarus: Man investigated over 'fence blog'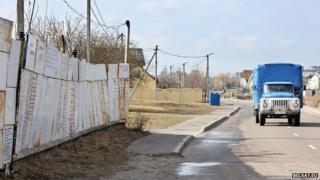 A Belarusian man is being investigated over a "blog" written on a fence outside his home.
Mikhail Lukashevich has been posting political statements - including opinions about the government - on a fence in the western city of Brest, Radio Free Europe's Svaboda website reports. Many of the statements on the "fence blog" address the current political situation in Belarus, and now the authorities are investigating him for allegedly defaming President Alexander Lukashenko. If convicted, he could face up to four years in prison, the website says. Mr Lukashevich has been making the posts for more than 10 years, according to the Poland-based Belsat TV website.
In an interview with Svaboda, he says he started writing the blog in the 1990s after struggling to find work. During the Soviet era he spent time in a psychiatric hospital, and says people wouldn't hire him after he was released. Mr Lukashevich is in contact with human rights activists, and one tells the website that he could be given a psychiatric examination and then sent for compulsory treatment, or he could be imprisoned.
President Lukashenko, who has been in power since 1994, is often referred to as "Europe's last dictator", and the country has been heavily criticised by human rights groups for suppressing free speech. In 2011, Polish-Belarusian journalist Andrzej Poczobut spent three months in jail while on trial for insulting the president. He was subsequently convicted and given a three-year suspended sentence. Belarus was ranked 157 out of 180 countries in the Reporters Without Borders World Press Freedom Index for 2015, which described the situation there as "very serious".
Use #NewsfromElsewhere to stay up-to-date with our reports via Twitter.