UAE: Rare owl surprises researchers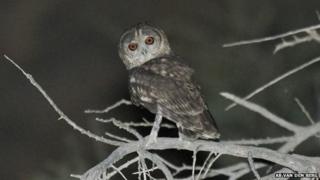 An owl discovered only two years ago and thought only to exist in the Gulf state of Oman has been reportedly identified in the United Arab Emirates.
Researchers in the mountainous and protected wetland area of Wadi Wurayah in the east of the emirates say they heard the distinctive call of the rare Omani owl when they played recorded owl calls through speakers, The National newspaper reports. The team from the Emirates Wildlife Society said that the owl, Latin name Strix omanensis, responded to their recordings "with an hour-long singing session". The cliff-dwelling bird is so rare and difficult to pin down that it was only discovered in 2013, and only seven birds living in a valley in Oman were observed at the time.
Ida Tillisch, director of the Emirates Wildlife Society, told The National that the group is "delighted" to have discovered the species in Wadi Wurayah, especially as the presence of a previously unknown bird had been suspected since at least 2006, but calls were then attributed to Hume's Tawny owl. The Omani owl's call is reminiscent of the song "Here Comes the Bride", National Geographic reported in 2013. According to Birdlife International, the global conservation group which includes the UK's RSPB, there have been so few sightings of the Omani owl, there is "insufficient information available for a robust assessment of its extinction risk" and its "population size remains a matter of speculation."
Use #NewsfromElsewhere to stay up-to-date with our reports via Twitter.