Turkey: University dropout to graduate after 64 years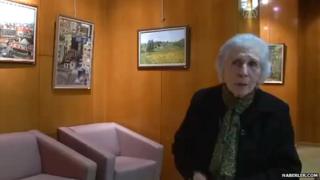 An 84-year-old Turkish woman is due to graduate from university this summer - 64 years after first enrolling.
Fatma Mihriban Aktari was admitted to a course in fine arts at Istanbul's prestigious Mimar Sinan University in 1951, juggling her studies with a job at a printing house, the Daily Sabah website reports. Reliant on the job to support her widowed mother, Mrs Aktari was forced to drop out of university when full-time attendance was made compulsory. An earlier attempt to study at the institution had been cut short when her father died on the first day of term, the paper reports.
The artist worked as a teacher until her retirement in 1988, but her hopes of achieving a fine arts degree gained a boost in 2011. "I was watching TV when I saw a report that the government would grant admission to university dropouts," she says. "It said people of any age can enrol, and I thought I could be eligible as well." Despite having "angrily" thrown her attendance records away years earlier, university officials were able to track down the archived documents proving she had studied there. "I was about to pass out from joy when I heard that I was admitted," she says. Mrs Aktari is due to finally graduate this summer, and is busy preparing sketches to present for her thesis on the topic of "meeting and separation" - an appropriate theme, as the paper points out.
Use #NewsfromElsewhere to stay up-to-date with our reports via Twitter.