South Korea: Kingsman movie 'boosts dapper suit sales'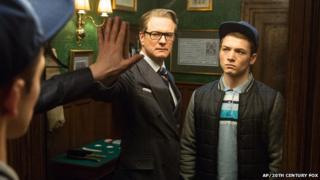 British actor Colin Firth has been credited with boosting the sale of formal menswear in South Korea.
The actor's dapper appearance in the recent spy spoof Kingsman: The Secret Service has gone down so well with cinema-going Koreans that they're keen to emulate it, the Chosun Ilbo website reports. Mr Firth is kitted out in double-breasted suits in the film, and his spy ring operates from a shop on London's Savile Row - renowned as the home of bespoke British tailoring. The AK Plaza department store group saw sales of double-breasted suits rocket by 64% in February - when the film hit screens in South Korea - compared to the same period in 2014. And it's a similar story among online retailers, the website reports. One online shop says all men's suit sales are up, but the biggest increase was seen in "formal dressy attire", which rose by 38% on the same period last year.
The flurry of sales is largely being put down to the Oscar-winner's "dashing" look and bespoke outfits in the film, the website says. Kingsman has been a huge hit in South Korea, with more than five million tickets sold in its first five weeks in cinemas. So far, it's the most successful 18-certificate foreign film ever released in the country.
Use #NewsfromElsewhere to stay up-to-date with our reports via Twitter.