Russia: Toy shop releases KGB-themed adverts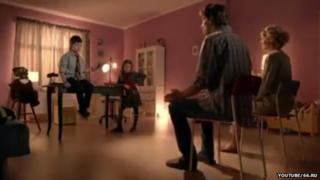 A Russian toy shop has launched an advertising campaign which seems to be based on a KGB interrogation.
The Central Children's Shop is located on Lubyanka Square, the same place as the former Soviet secret police headquarters and prison - commonly referred to simply as Lubyanka. Playing on that association, the shop's tongue-in-cheek adverts show a brother and sister questioning their parents in a darkened room. In one video the little boy paces around with a wooden hammer before telling his parents: "You have left us no choice. We'll have to up the pressure." A quick wink to his sister sets off a full-blown tantrum from the girl, prompting the father to demand a lawyer, while the mother falls to her knees saying: "I can't bear this!"
The three adverts were temporarily removed from the company's YouTube channel, but two have since been reposted, the Meduza website reports. The video which alluded to torture has not returned. There's been a mixed response on social media, with some people clearly unsettled. "Well, how creative. The last film should be the parents being shot after being taken to Lubyanka. Why mess about?" asks one person on Facebook. But not everyone has taken it so seriously. "Listen, it's just an advert. It's meant to provoke, to stick in people's minds," says another user. And someone else wonders if the Soviet references will even hit home. "The idea is good, it's just badly done," he says. "It is aimed at parents of about 26 to 30. Will they understand it? I'm not sure."
Use #NewsfromElsewhere to stay up-to-date with our reports via Twitter.