Italy: Palermo police find cannabis farm in sewer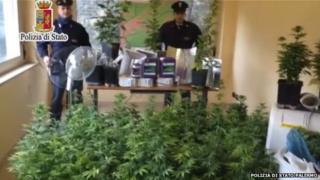 An underground cannabis farm has been found in a sewer system underneath a residential street in Palermo.
Officers in the Sicilian capital found 77 cannabis plants being grown in tunnels beneath a suburb in the north of the city, the Giornale di Sicilia website reports. The subterranean hothouse is accessed through a shed located at street level, but police say they had to wind their way through a series of narrow tunnels before finding the plants. They also discovered a heating system designed to create an ideal microclimate, lights for each plant and a huge air conditioner, the report says. The area where the farm was found - known as Zen - is an economically deprived part of Palermo. A married couple who live on the street have been charged in connection with the find.
It's not the first time unusual underground spaces have been used to grow cannabis. In January, Dutch police found more than 150 plants hidden in an old World War Two bunker close to the coastal town of Katwijk. And two men were jailed in the UK earlier this year for building a cannabis factory in underground shipping containers accessed through a trapdoor in a caravan.
Use #NewsfromElsewhere to stay up-to-date with our reports via Twitter.