Turkey: Beekeepers to get bear insurance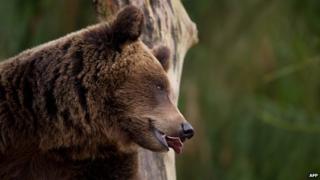 Turkey's beekeepers can now get insured for bear attacks on their hives, it's reported.
Beekeepers in the country have been dealing with the financial burden of bears destroying their hives for years, but now they'll be reimbursed by a government-supported scheme, the Anadolu news agency reports. "No matter what they did, bears were able to damage the hives," says Bahri Yilmaz, president of the Turkish Beekeepers Union. "Some tried to hang the hives high up the trees. Some used live wires - nothing worked." The Agricultural Insurance Pool will pay out 175 liras ($65; £45) for each hive lost to a hungry bear, says Mr Yilmaz.
While bears are known to enjoy honey, they'll also gobble up the bees and larvae from inside a hive. One beekeeper points out that shooting the wild animals is illegal, leaving them with few options to protect their livelihoods. "That's why this insurance is very important," says Neset Nuhoglu, who works in Ordu, on Turkey's northern coast. Another man tells the agency that beekeepers will still try to save the hives, but knowing there's insurance available will provide peace of mind. Turkey is one of the world's biggest honey producers, second only to China in 2013, according to the UN Food and Agriculture Organisation.
Next story: Calls for Danish royal hunting rights to be scrapped
Use #NewsfromElsewhere to stay up-to-date with our reports via Twitter.