Canada: Big freeze hits Newfoundland meat supplies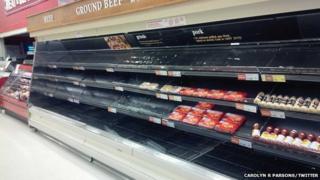 A particularly hard winter has hit meat supplies in eastern Canada, leaving some supermarket shelves bare.
Shoppers on the island of Newfoundland tweeted photos of empty shelves in the fresh meat aisle, and one supermarket said it was "dramatically behind on orders", the CBC news website reports. Earlier reports said shops had been running short of fruit and vegetables too. The delays have been put down to ice in the channel between mainland Canada and Newfoundland, causing disruptions to ferry services. While sea ice is normal in the region, this year has been worse than usual. "This is amongst the worst we've seen in about 30 years," Darrell Mercer of Marine Atlantic, which runs the ferry service, tells CTV News. He says the ice began forming in early February, more than a month earlier than last year, and has been building even since.
"I guess it's chicken only this week!" tweeted Daniel Barrett, alongside the hashtag #groceryfail and a photo of empty beef and pork shelves at a Dominion supermarket in the city of Mount Pearl. Miles away in the town of Gander there was the same problem. "Where's the beef?" asked shopper Carolyn Parsons, echoing the famous advertising slogan. Fresh produce is now in stock, the supermarket says, but it appears that the delays have also been troublesome for producers. One milk farmer says he had to ditch 100,000 litres (22,000 gallons) of milk earlier this month - with a value of about $100,000 (US$78,000, £53,000) - because it couldn't be shipped to the mainland for processing before it spoiled. However, he blamed the ferry company rather than the sea conditions.
Next story: Turkish beekeepers to get bear insurance
Use #NewsfromElsewhere to stay up-to-date with our reports via Twitter.