India: Police enforce beef ban with cow 'mugshots'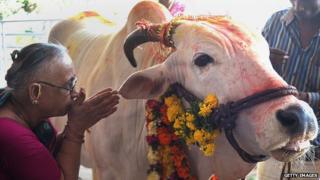 Police in one Indian state have told cattle owners to submit photographs of their livestock to help them enforce a new ban on selling beef.
Officers in the city of Malegaon, in the western Maharashtra state, say the photos are needed for reference in case a criminal case arises under the recently introduced law, which bans the slaughter of all cows and sale and consumption of their meat, The Times of India reports. The Maharashtra Animal Preservation (Amendment) Act came into force on 2 March after taking 19 years to become law. "We are keeping the photographs for verification purposes only," police official Mahesh Sawai tells the paper. "If someone alleges that some illegal activity has taken place and if the owner has a photo, it will be easy to establish the truth."
The call for photographic evidence comes after three people were charged locally for selling beef, the first case under the new law. While the slaughter of cows was banned in Maharashtra state in 1976, the new law bans the slaughter of bulls and bullocks as well. Beef from buffalo is still legal. Those convicted face a fine and up to five years in prison. The need for photographs hasn't gone down well with local livestock owners, the paper reports. "Cops are asking for photos of animals when there is no law that says we should send them pictures," says one city resident. The last official five-yearly census of livestock in India took place in 2012, and revealed a total bovine count of just over 21m animals in Maharashtra state, compared to a human population of around 112m.
Next story: China spending cuts force officials into driving lessons
Use #NewsfromElsewhere to stay up-to-date with our reports via Twitter.