Canada: 'Ice-cold Camembert' blamed for expenses claims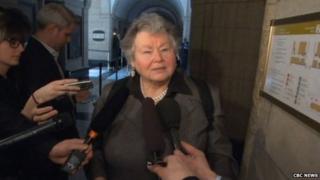 A Canadian senator has rebuffed questions about her expenses claims by saying she can't be expected to eat the "awful" free breakfasts on planes.
Conservative Party Senator Nancy Ruth says her assistant has on occasion claimed reimbursements for breakfast food bought for a flight, even though the senator could have had an airline meal, the CBC News website reports. "Those breakfasts are pretty awful," Ms Ruth told reporters gathered in Canada's parliament building. "If you want ice-cold Camembert with broken crackers, have it!" Auditors are examining the expenses of dozens of senators to check that their claims do in fact relate to Senate business. But Ms Ruth says they don't understand what it's like to have to travel to Ottawa on a regular basis. According to CBC, she claimed $11,000 (US$8,700; £5,900) in three months for travel between her home in Toronto and work in the capital.
Social media users have had a field day with the senator's comments. "Cold Camembert with broken crackers built this country," tweeted columnist Tabatha Southey. In among a variety of cheese puns, many users pondered exactly what is considered an acceptable serving temperature for the product. "Gotta love that sense of senatorial entitlement oozing like warm Camembert," said one user. And there were even some suggestions for how to combat chilly cheese situations. "Couldn't the honourable Nancy Ruth have warmed the Camembert up under her arm or something?" another person asked. "That's what I do with my phone when it's cold."
Next story: Reverse April Fool nets NZ woman luxury car
Use #NewsfromElsewhere to stay up-to-date with our reports via Twitter.