Italy: Doggy bag push to prevent food waste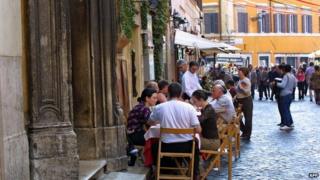 An Italian company is trying to persuade diners to embrace the doggy bag in order to stop food going to waste.
A campaign by the Metro cash-and-carry group is aiming to make the practice of taking uneaten food home more normal in the country. The "Schiscetta Reverse" movement is being supported by, among others, the UN's World Food Program, and has been launched to coincide with Milan Expo 2015, a six-month-long exhibition focusing on global food security, the Ansa news agency reports. In Milanese dialect a "schiscetta" is a container which people use to transport their leftovers from home to work, to reheat and eat for lunch. But with less time to prepare food at home nowadays, the company thinks that tradition should extend to making use of leftovers from meals out too.
While wrapping up the remainders of a meal in a plastic box is commonplace in the United States, it's not popular in Italy and is often considered vulgar, Ansa notes. The Schiscetta Reverse organisers perhaps sense that the Italian public will need some convincing that the practice is acceptable, so they've roped in a couple of celebrity chefs to promote it.
Next story: Vietnam internet users save noodle stall's comical sign
Use #NewsfromElsewhere to stay up-to-date with our reports via Twitter.