New Zealand: Hunters urged to give ducks a chance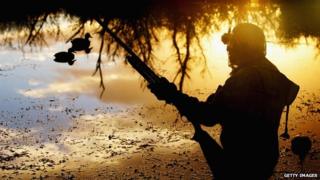 Hunters in New Zealand are being asked to give ducks a chance by limiting the number of shots they take.
Duck shooting season begins the first weekend in May and ends in June, but some regional councils want the birds to have a chance of making it through the period alive, the New Zealand Herald reports. Hunters are being asked to voluntarily limit themselves to three shots, something which will become mandatory when hunting all game birds in 2017. It's "a way hunters can play their part in helping conserve local mallard populations", Peter McIntosh, fish and game manager for the northeastern Hawke's Bay region, tells the paper. "It's all about keeping our tradition and sport sustainable."
The region has also banned shotgun extensions for this year's hunting season, in an attempt to keep the mallard population stable. While it could be good news for ducks who manage to dodge the bullets, it's less cheery for rabbits, hares and possums, all of which can still be targeted with the full capacity of a magazine, Mr McIntosh says.
Next story: North Korea launches online shopping site
Use #NewsfromElsewhere to stay up-to-date with our reports via Twitter.