South Africa: Naturists flock to first nude beach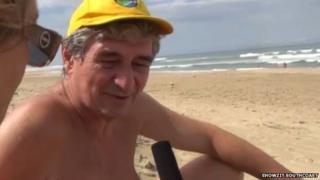 Naturists have started using South Africa's first official nudist beach, despite ongoing protests against it.
Dozens of people turned up to use the 250m (820ft) stretch of beach, which lies within the eastern Mpenjati Nature Reserve, even though it hasn't officially opened yet, the Times Live website reports. While the beach was approved in 2014, its formal unveiling has been delayed because of ongoing objections, the council says. Officials had to intervene on the naturists' behalf over the Easter weekend, after the Concerned Citizens Group - which opposes the beach - called the police. The group argues that local bylaws allowing it haven't yet passed, but the council says it's merely a technicality.
"We are here legally," Serge Pavlovic, chairman of the South African National Naturist Association, tells the website. "There is a lot of emotion around this - people don't understand that naturists want to be one with nature. There is nothing sexual about this." Mr Pavlovic told another reporter that his group was "very proud" to have created a code of conduct for the beach, which outlines unacceptable behaviour. Among the beachgoers enjoying the Easter sunshine was a Johannesburg pastor, although she declined to be named, saying: "I have to keep this a secret - my church will not understand."
Next story: New camouflage for North Korean biplane fleet
Use #NewsfromElsewhere to stay up-to-date with our reports via Twitter.