Finland: Rollerblading president adds UAE to his list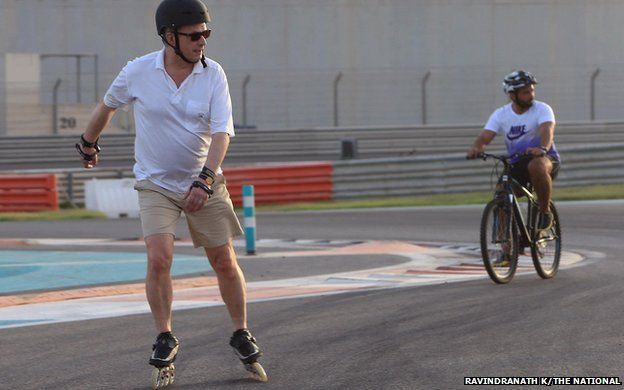 When the president of Finland travels to foreign lands on official trips he always makes sure to pack his rollerblades, it seems.
President Sauli Niinisto was seen skating at the Yas Marina Circuit in Abu Dhabi on Sunday, The National newspaper reports. Mr Niinisto says he has rollerbladed in more than 30 different countries since taking it up during his days as finance minister in the 1990s. "I'm collecting, in a way, different places," he tells the paper, adding that he has whizzed around Beijing's Tiananmen Square, Broadway in New York "and many places between".
During his visit to the United Arab Emirates, the president managed to fit in a 12km (7.5 mile) skating session along Abu Dhabi's seafront before meeting Crown Prince Sheikh Mohammed bin Zayed for talks, the report says. Several other leaders are known to have surprising hobbies outside of their formal, public lives. Belarusian President Alexander Lukashenko is known to have a penchant for roller skiing - cross-country skiing minus the snow. And former Ukrainian President Viktor Yushchenko balanced the affairs of state with climbing mountains and beekeeping.
Use #NewsfromElsewhere to stay up-to-date with our reports via Twitter.