Canada: Five-year-old's lemonade stand raises thousands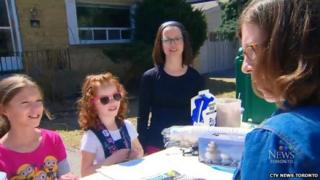 A five-year-old Canadian girl has raised thousands of dollars for charity by selling lemonade from a stand in her driveway, it's reported.
Na'ama Uzan set up the stand last year to try and help her older brother, Nadav, who suffers from the rare genetic disorder Angelman Syndrome, the CTV News website reports. "It's going to make a cure," she tells the channel, while showing off the goodies on offer on her stand. Her family says the venture has now raised about 25,000 Canadian dollars (US$20,000; £13,600) for the Foundation for Angelman Syndrome Therapeutics, which is trying to find a cure for the condition. Her seven-year-old brother suffers from seizures, and has difficulty walking and talking. Na'ama doesn't just sell lemonade - she's adapted to Canada's seasonal changes, selling hot chocolate during the winter, and offering muffins and bread for any peckish customers.
According to CTV, her entrepreneurial spirit has been an inspiration to another family thousands of miles away in the US state of California. A couple there, whose son has the same condition, have raised a further $20,000 which they're putting towards a research grant in Na'ama's name. Closer to home, the youngster gets a helping hand from her friends, who take it in turns to join her on the stand, the Toronto Star reports. Na'ada tells the paper she enjoys doing it because it helps her brother, adding that she loves him "more than a tonne. I can't say how much. It never ends."
Next story: Finland's rollerblading president
Use #NewsfromElsewhere to stay up-to-date with our reports via Twitter.