Uzbekistan: 'Centenarian bonus' gets sceptical response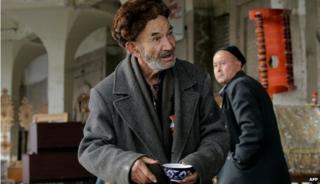 People who live to see 100 in Uzbekistan are in line for a cash bonus under a new government scheme, it's reported.
Elderly people in the Central Asian state will be given about $30 (£20) per month after they reach their centenary, the privately-owned Central Asian News website reports. The amount is equivalent to the country's monthly minimum wage, and will be paid in addition to existing pensions, the report says. It's Uzbek tradition to name each new year, and 2015 has been declared "The Year of Care for the Elderly".
While the centenarian bonus might look like a windfall, not many Uzbeks make it to such a grand old age. According to World Bank data, life expectancy for women in Uzbekistan is 71.7 years, and for men it's just 65 years. That has left some social media users suggesting the new scheme is a way for the government to look good without having to shell out much money. "This is ridiculous, there's a handful of people aged 100!" says one Facebook user. "I would understand if it were for those who are 80 years old. That would be a real help!" Another user asks: "How can a person live for 100 years with today's pensions?"
One Uzbek who could have benefitted from the payment died only weeks ago. According to her passport and government officials, Toti Yusupova was born in July 1880, making her 134 when she died.
Next story: Czech man claims to establish 'new state'
Use #NewsfromElsewhere to stay up-to-date with our reports via Twitter.