Dubai: New car prizes for law-abiding drivers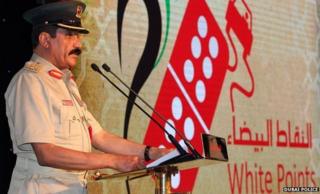 Two motorists in Dubai have been given brand new cars as a reward for abiding by the rules of the road.
The freebies are part of the emirate's White Points scheme, which aims to incentivise good driving, the Gulf News website reports. Drivers who steer clear of any driving offences for a whole year are entered into a raffle, with top prize being a new car. Police say it's helping to reduce the number of road deaths in the emirate, which they want to be zero by the year 2020. "People should be safe on the roads even without an initiative," says one of the winners, bank worker Laila Mohammad Mubarak, who now has a brand new Hyundai. "But I like the white points system as it encourages people to abide by the traffic rules."
The scheme, which began in 2012, awards prizes to 1,500 people in total, but they don't all win a car - other rewards include gift vouchers and hotel stays. And there's a final bonus for all the winners. They get 24 "white points" which - somewhat ironically - can be used to waive minor driving transgressions. Police in part of New Zealand have been rewarding good drivers in a similar way, although it's a lower-budget affair - rather than cars, winners take home supermarket vouchers.
Next story: Russia police stage mayor's disappearance
Use #NewsfromElsewhere to stay up-to-date with our reports via Twitter.