New Zealand: Council tries to thwart wallaby advance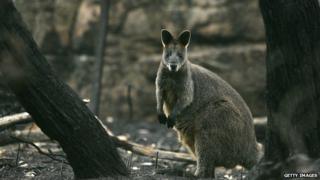 A regional council in New Zealand is trying to stop an invasion of wallabies, it's reported.
Officials in the southern Otago region are considering proposals for "search and destroy" missions to root out any wallabies that have already set up home there, Radio New Zealand International reports. While beloved by many, the marsupials are considered a pest in New Zealand for their tendency to munch through vegetation. The animals have been scaling a dam in order to cross the river dividing Otago and the neighbouring Canterbury region. The intrepid creatures have then been traversing a mountain range, according to the council's environmental director Jeff Donaldson. "I have no idea how many there are but we want to make sure they don't have the opportunity of spreading further afield," says Mr Donaldson.
That's a view echoed by local farmers. "We don't have wallaby in Otago and they are not going to benefit us one little bit, so we have to do everything we can to keep them out," Richard Strowger, president of Federated Farmers North Otago, tells the website. While the marsupials are synonymous with Australia, a small group was introduced to Canterbury in the late 1800s. The population has since ballooned, with thousands now living inside the region's containment zone, set up to try and stop their spread.
Next story: China gamers hire 'online escorts' to beat loneliness
Use #NewsfromElsewhere to stay up-to-date with our reports via Twitter.