Russia: Funeral home criticised for pensioner tea party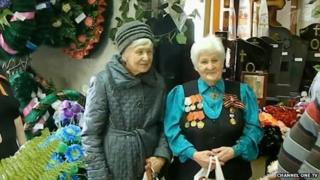 Pensioners who helped the Russian war effort against Nazi Germany have been treated to a party - at a funeral home.
The group of about 50 elderly women thought they were going on a city tour in Yekaterinburg, but instead found themselves at a tea party surrounded by coffins, headstones and funeral wreaths, state-owned Channel One TV reports. The event was ostensibly a celebration in advance of Victory Day, held on 9 May in Russia. But the women were also slipped business cards with the funeral home's contact details. While some took it in their stride, others were upset. "This is horrible - I was in such shock that I wasn't even able to attend Saturday of Souls," Yevgeniya Vyatkina says, referring to the Orthodox day for commemorating the dead. "I still have some life ahead of me, it's too early to go to a funeral parlour."
Displeased local people have sounded off about the event on the Yekaterinburg Online site. "Apart from a funeral flower, our grandmother was presented with a flyer containing telephone numbers to call if 'something' happens, a price list and instructions on how to get a loan for funerals," says one person. Another thinks the fact it was pitched as a Victory Day celebration is "disrespectful". But the funeral home's director doesn't see the problem. He says they've held similar tea parties before, and he thinks the business has successfully combined charity with advertising.
Next story: Cow 'eats sheep' on Kenyan farm
Use #NewsfromElsewhere to stay up-to-date with our reports via Twitter.