Russia TV reporter 'lights grass' for wildfire report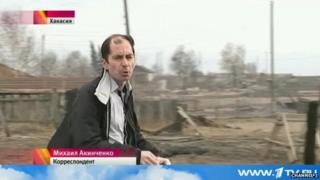 A Russian state TV reporter is in under fire after admitting to setting grass alight to embellish a report on wildfires.
Locals of a village in the Siberian republic of Khakassia accused Channel One journalist Mikhail Akinchenko of throwing a carefully aimed cigarette butt to get nearby grass smouldering, according to local news agency Khakassia. He later told police he had wanted to create "background shots" for a report on forest fires that have claimed 30 lives in the region. Channel One confirmed the incident and apologised, describing the move as "negligence". Police are investigating whether it's a case of arson.
"In one word: Idiots," Channel One director of news Kirill Kleimenov told RSN radio. "He will of course be punished. You should use your head and think about what you are doing." But he added that Akinchenko was a "good correspondent and good person" and would not be sacked.
The Khakassia news agency said the incident was an example of the cynicism of national TV journalists. Pro-Kremlin media and organisations have a reputation of tweaking reality for effect - and Russia's frequent wildfires are a popular motif. In 2010, the pro-Kremlin youth group Young Guard posted a YouTube video showing them apparently dousing a wildfire that was later widely condemned as being staged for the camera.
Next story: China clampdown on funeral strippers
Use #NewsfromElsewhere to stay up-to-date with our reports via Twitter.