Iceland: Pink geyser artist defends work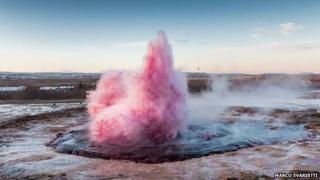 An artist who controversially turned an Icelandic geyser bright pink has defended his work after coming in for criticism.
Marco Evaristti was slapped with a 100,000 Icelandic kronur ($740; £490) penalty for dyeing the famous Strokkur geyser using food colouring. The Danish-based Chilean artist has so far refused to pay up, and on Sunday he left Iceland without any objection from the police, the Morgunbladid website reports. Mr Evaristti says the dye he used to turn the hot spring pink was harmless, and that people's criticism shows their "concern, care and love for nature". It was part of a long-term project which, among other creations, has seen him dye a Saharan sandbank - and nearby sheep - pink.
The artist has faced a tirade of online hostility over the past few days, with many people accusing him of arrogance and disrespect for Iceland. "All artists choose their canvas, but when it goes so far as to potentially harming natural environments you have to know where to draw the line," reads one comment on Mr Evaristti's Facebook page. A smaller number defend the artist and criticise the tone of the debate. "I'm embarrassed by the way people talk to you," says one woman, who describes the pink geyser as "beautiful and thought-provoking". She adds: "I wish that people would act this way when some of the BIG companies and governments are truly ruining our nature!"
Next story: Red faces in Russia over Luftwaffe poster gaffe
Use #NewsfromElsewhere to stay up-to-date with our reports via Twitter.