South Korea: Students hold snoozing contest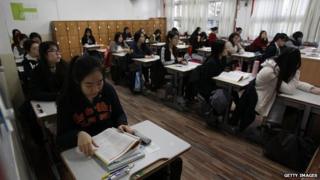 A South Korean student group has held a sleeping contest to encourage their exam-weary peers to rest.
Students settled down for a nap on the lawn at Duksung Women's University in Seoul, and were given blankets and pillows to get comfy, the Korea Times website reports. They also had eye masks to block out the daylight. It wasn't a particularly leisurely affair though, as participants only had five minutes to fall asleep before organisers started trying to wake them up. To judge who had fallen into the deepest sleep - and therefore won the contest - several tests were carried out, including blowing into students' faces and cracking jokes.
Organisers say the sleeping competition had a dual purpose. "We attempted to suggest that rather than go to clubs after mid-terms, students take naps to heal their mind and body," the Love Recipe group, which planned the event, tells the paper. But they also wanted to raise awareness over sleep deprivation caused by exam stress. Official statistics show that among 13 to 24-year-olds, three out of ten sleep for less than six hours each night, the website reports. Everyone who took part in the university snooze-fest was given some chocolate or an energy drink, and small cash prizes were awarded to the winner and runner-up. But it was the third-placed contestant who took home the most appropriate prize - a pillow.
Next story: Ankara giant robot statue replaced with T-Rex
Use #NewsfromElsewhere to stay up-to-date with our reports via Twitter.