Solomon Islands: Outcry over MPs' tax-free salaries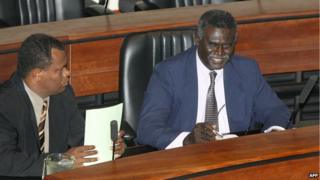 Members of parliament in the Solomon Islands are facing a public backlash over a decision to make their salaries tax free.
The move was announced by the Parliamentary Entitlements Commission in April, along with a 4% pay increase and improved pension plans for MPs, the Radio Australia website reports. It has been described as "absolutely outrageous" by non-profit group Transparency Solomon Islands. "Look at the hospitals, look at the schools and the services and the roads," says Bob Pollard, a member of the organisation's board. "How can the MPs dare to think they deserve such a salary?" The group is now mounting a legal challenge against the decision.
Local people have been donning red shirts in protest at the move, with one activist telling Radio Australia that "the feeling against the tax-free pay is escalating". Despite public disquiet, Prime Minister Manasseh Sogavare has come out in favour of the decision. Mr Sogavare initially said he understood people's concerns and would "propose measures" to address them. But on Thursday, he told parliament that MPs face major financial pressures, including feeding up to 50 constituents every day, and was quoted as saying anyone criticising the measures was living in "an imaginary world".
The former British protectorate is one of the Pacific's poorest countries, and ranked 157th out of 187 states on the United Nations Human Development Index in 2014. Australia is a major donor of financial aid, giving 183m Australian dollars (US$143m; £95m) last year.
Next story: Iceland offers 'human search engine'
Use #NewsfromElsewhere to stay up-to-date with our reports via Twitter.