Canada: Woman offers 'foster grandmother' services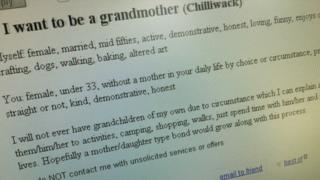 A woman in Canada has posted an online advert offering to be a "foster grandmother", it's reported.
The advert, titled "I want to be a grandmother", was posted on the Craigslist website by Christine Kobler, the CBC News website reports. In it she seeks a woman who has no mother figure in her daily life either "by choice or circumstance", and offers to take their children out for walks, camping or shopping, and to "share my life experience when asked". Mrs Kobler has twin adopted daughters who both have special needs, and says they're unlikely to have children.
"My friends around me are having grandchildren, and I see how it benefits them and how it benefits the grandkids," she tells CBC. So far, a few mothers have been in touch, but Mrs Kobler says she understands if people are wary of the offer. "Both parties, I think, need to keep their guard up a little bit and really take the time to get to know people," she says.
In January, a Chinese woman advertised for a "daughter" to whom she could pass on her business and potentially her wealth. The doctor from Henan province said she wanted a "kind-hearted" woman who would visit her just as a real daughter would.
Next story: Cockle haul costs NZ woman her luxury car
Use #NewsfromElsewhere to stay up-to-date with our reports via Twitter.