Estonia: Volunteers guide 20,000 frogs across roads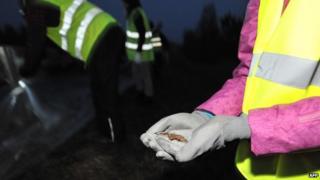 Volunteers in Estonia have helped to protect nearly 20,000 frogs from the dangers of busy roads during their annual spring migration, it's reported.
The Estonian Nature Fund has released figures for its Frogs Way campaign, during which people carry the frogs across highways to stop them being run over, the Postimees newspaper reports. "The volunteers needed particular stamina. The migration went on for a very long time throughout April, and in many areas the frogs chose unexpected routes," says project manager Kristiina Kubarsepp. In total, the volunteers helped 19,185 frogs. The largest waves were around Lake Vortsjarv in the south of the country, and in the Tammiku region, where 4,000 of the creatures were helped on their way. But even the capital, Tallinn, saw a stream of frogs crossing a residential street.
The Nature Fund says it has saved 63,000 frogs in the past four years using volunteer escorts. Without human intervention, thousands of the amphibians would be killed crossing busy roads. Now the organisation is hoping to build tunnels to help the creatures avoid traffic altogether, and to encourage drivers to look out for their fellow road users. Frogs' migration routes have become less predictable in recent years, as bodies of water have been drained or have become uninhabitable, the Nature Fund says.
Next story: Swedish 'gay sailor' sign to ward off foreign submarines
Use #NewsfromElsewhere to stay up-to-date with our reports via Twitter.