Iceland: TV channel airs 24-hour lambing marathon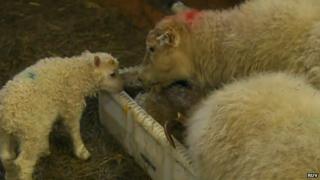 Iceland has joined the trend for "slow television" by broadcasting 24 hours of live lambing.
The national public broadcaster RUV invited viewers to tune in from the comfort of their sofas, as sheep at a farm in the northern region of Skagafjordur welcomed their new arrivals. The audience saw dozens of lambs being born during the broadcast, which started at noon local time (12:00 GMT) on Thursday. Those who weren't at home could also follow the proceedings on Twitter, where RUV posted a series of rather up-close-and-personal sheep photos.
The broadcaster said it was hoping to give an "insight into the traditional farming life" of Iceland. "The sheep birthing season is an unforgettable time for those able to see the little lambs being born into this world," its website reads.
The lamb-athon seems to have been inspired by famous slow TV broadcasts in Norway, several of which RUV references on its website. Aside from sheep-shearing and knitting marathons, Norway's public television network NRK once broadcast 12 hours of wood burning, and in 2011 it showed 130 hours of a cruise ship sailing up the Norwegian coast. Earlier this year, BBC Four announced it was getting in on the act, with a series of slow TV broadcasts in the UK, including a two-hour canal journey, and a three-hour tour of the National Gallery without any voiceover or extra sound effects.
Next story: Belarus top cop in row over Stalinist uniform
Use #NewsfromElsewhere to stay up-to-date with our reports via Twitter.