Uzbekistan: Burning buses cause anger in Tashkent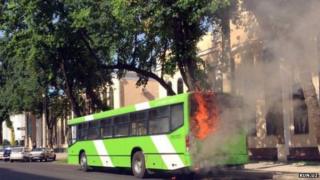 Residents in Tashkent have been venting their frustration over a spate of fires on the city's buses, it's reported.
The most recent incident occurred on a bus travelling down a main street in the Uzbek capital on Friday, the Kun.uz website reports. Photos show flames rising up the back of the Mercedes-Benz bus, apparently coming from the engine compartment. Another news site says it was the tenth bus fire in Tashkent since March 2013. The city transport company, Toshshahartransxizmat, says another bus fire at the end of April was caused by a short circuit in the vehicle's wiring. But Uzbek netizens think it's more likely to be poor upkeep causing the engines to overheat.
"This will continue unless the state transport company starts taking maintenance measures," one Facebook user says, accusing them of using poor quality fuel and "ditch water instead of antifreeze." Another person asks: "How many of those buses are left in the bus park?" And one person posts a mock-up photo of a man in a flame-retardant suit, with the caption: "It's time to introduce a new uniform for bus drivers."
The city's bus troubles have even become a subject for cartoonists to lampoon. One artist posted an image on Facebook depicting the action movie star Jason Statham on the phone saying: "Hey director, a burning car is not cool anymore. Tashkent has already started to burn buses, I want that too."
Next story: Swiss rail company deploys 'lawnmower sheep'
Use #NewsfromElsewhere to stay up-to-date with our reports via Twitter.