China: 'Morality bank' rewards good deeds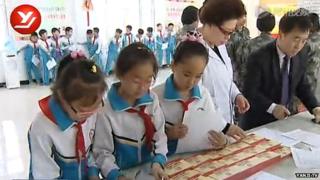 A new bank in northeastern China is proving that good deeds really do pay off.
The "morality bank" in the city of Yanji rewards people with free services in exchange for doing something positive in the community, the Xinhua news agency reports. The bank, which is run by a local authority, gives people points depending on the nature of their good deed. Handing in a lost wallet will net an account holder 50 points, but the biggest rewards require a bit more sacrifice. Helping someone who is in a dangerous situation earns between 300 and 500 points, and donating haematopoietic stem cells means 1,000 points.
Rewards start small, with free haircuts on offer for anyone who has 150 points, but bigger account balances can earn home cleaning sessions or health check-ups. And if a customer accumulates 6,000 points, they're declared a "model of community morals".
Morality banks have popped up in several Chinese cities in recent years, although some critics feel they are too materialistic, Xinhua notes. But in Yanji the bank is proving popular - more than 600 people have joined since it opened two weeks ago, according to one local official. Among them are many local school children. One teenager, filmed cleaning up a yard with his classmates, told local Yanji TV: "We can be proud and excited that we're doing good things and being good people."
Next story: Iran cartoon competition 'exposes' Islamic State
Use #NewsfromElsewhere to stay up-to-date with our reports via Twitter.